Recently opened in Roscommon town, West of Ireland, Rummage loves to share with you their passion for the past. They sell antique, vintage and retro furniture, household and whatever else they can find! Rummage also offers a furniture upcycling service with the aim of saving that piece which may otherwise be heading for timber heaven!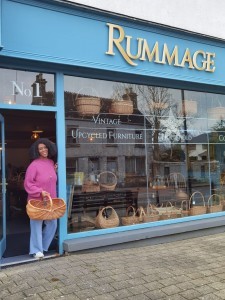 Short profile of their background and motivation to start a business
Catia da Nova, a native of Brazil moved to Roscommon, Ireland in March 2001 with a group of friends. Catia has worked in a variety of different disciplines before deciding with her partner Ray to set up their new business in Roscommon town. The motivation underpinning their decision is a passion and love for antique, vintage and retro furniture combined with the prospect of achieving a better work-life balance for their family
When did you first realise that you wanted to start up a business?
Catia explains "It wasn't overnight, I felt that I had to have a good understanding of English and be somewhat integrated in society. We always had an interest in furniture, antiques and upcycling. We renovated much of our home ourselves with such items. About 5 years ago really started to brainstorm the prospect of starting our own business"
How did you test your business idea?
"We always knew there was demand for such products and we completed various small jobs for friends in our spare time. I volunteered in a local charity shop for a period of time, which gave me a great opportunity to gain essential retail experience.
What market research did you undertake?
"I carried out various types of market research including exploring online resources and looking at similar shop models particularly in England. Social media was useful too and chatting to other stakeholders and people with similar interests. We explored the market further and recognized there was a gap in the market for this type of a shop in the region and especially in Roscommon. We wanted to offer consumers a broad range of quality products at affordable prices. We also noticed that people wanted to release new life to their own furniture, much of which had been in their families' possession for a long time. We often find that much of the older furniture is of superior quality and very durable".
What were the biggest challenges you faced during the start-up period
"There were various challenges but we were determined to overcome them. Financing is always a difficult step when starting a business but for us securing a broad range of stock requires constant engagement with various contacts, as there is no definitive one-stop supplier for our varying product range. In terms of the financing required for the initial start-up, we were fortunate enough to have put aside some money to fund the new venture. Other challenges we faced which are also experienced by many other new businesses is getting your name out there and establishing your presence in the town".
Did you avail of any Government funded supports locally?
"Yes we availed of supports provided by Roscommon LEADER Partnership and participated in Social Media courses provided by the Local Enterprise Office".
In addition to having your business premises in Roscommon town, do you engage in online sales?
"Yes we sell products through Facebook and we are starting to use Instagram recently too. Word of mouth and customer satisfaction is also two important areas we feel for the business"
How do you define business success?
"We tend to measure business success across various factors such as customer satisfaction, experience, word of mouth and the fact that many people travel relatively long distances to view their product range.
What other challenges has the business experienced since start-up?
"The coronavirus pandemic has definitely been the biggest challenge to date. Like many other businesses, we have had to reinvent the way we do business overnight. This included monitoring stock levels more closely while trying to move sales fully online during lockdown periods. However, aside from the pandemic, the ongoing challenge is competing with online market places where often times, individual routine sellers achieve sales without incurring traditional business costs such as rent, rates etc. However it's good to see Revenue watchdogs starting to troll these online marketplaces and target these mass sellers".
Are you part of any business Network?
"We are not affiliated to any of these networks be we are aware of their existence. For us networking tends to be about building relationships with suppliers and maintaining positive working relationships with local businesses other similar providers. However, I hope to join the local women's network in the future".
Did you encounter any difficulties when accessing finance to start-up?
"No, and thankfully we had some money putting aside and once we acquired a premises, we carried out much of the shop fit-out ourselves which saved us some money too".
What advice would you give to female migrants wishing to start up a business?
"Do not give up, do the market research and know inside out, the product/service you are offering".
Would you like to see more supports been developed such as tailored business training for new communities in Ireland?
"Yes that would be a huge help especially supports for female migrant entrepreneurs. Many migrants and refugees come to Ireland with a talented skill-set and it would be great to support these with their potential business ideas".
How else can the various enterprise support providers help migrants and those in our new communities to start their own businesses?
"Increase the accessibility and awareness of supports for new communities and more targeted offerings".
What are your plan for the business in the future?
"We would really like to expand the business in the future as we are seeing increased demand for our products and services. With remote working in play, people are now more aware of their home surroundings and many are looking to buck the trend with different and unique home contents".
If you had to do it all over again, what would you change with your business model?
"We wouldn't change a thing, thankfully the research paid off and we saw a gap in the market for our business. We hope to expand and explore new markets in the future. Overall, we have a passion and love for our business with a good work-life balance".